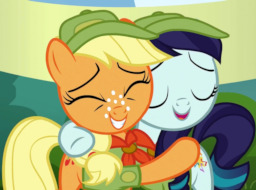 Applejack still remembers the conversations they had. Still remembers the promises they made to each other.
She might not have heard of Countess Coloratura before today, and Rara might have forgotten to write, but one thing held true; true friendship never ends.
---
A short look at the friendship between Applejack and Rara as fillies.
---
Ey, third page of popular stories! (I completely forgot I wrote this already)
Chapters (1)