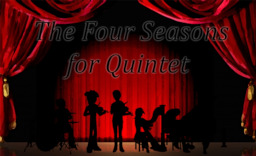 Source
Three things I need to point out. The first is that this story is currently unedited. If you are interested in editing, please PM me so we can talk.
The second is that while this story takes place in the universe of Mr. Disc, and taken place a year after "The Curiosity of Mr. Disc," this is not part of the Mr. Disc series. In fact, Julius Disc is actually a side character.
And the third thing that you need to know is that this story does contain both F/F shipping (Lyra x Bon Bon) as well as M/M shipping (Soarin x Braeburn).
To sum it up, if you don't like one or a combination of these, you know where the exit button is.
---
Taken place about a year after the events that unfolded in "The Curiosity of Mr. Disc," a new teacher arrives at CHS. A Violinist returns teaching after the death of his spouse. In the coming year, he will get to know four of his students where he will help them with their musical abilities while they help come to terms with his grief.
---
A special thank you to His Majesty PrinceCelestia for the cover art.
Music used in this fanfic in chronological order: Caprice No. 5 for Solo Violin by Paganini; Pathetique Sonata, 2nd Movement by Beethoven; Bohemian Rhapsody by Queen (arrange for Orchestra and Viola); Violin Concerto No. 1, 1st Movement by Tchaikovsky; "Un Bel Di" for solo violin and piano from Puccini's Madame Butterfly; Claire de Lune for Solo Harp by Debussy; Gymnopedies No.1-3 by Satie; Rock Toccata by David Garrett; Danse Macabre for Solo Violin and Piano by Saint Saens; Piano Concerto No. 5, 2nd Movement by Beethoven; "Man in the Mirror" for Orchestra by Michael Jackson; "Greensleeves" arrange for solo Violin by Caroline Adomeit; "Stille Nacht (Silent Night)" for orchestra, arranged by David Riniker; The Second Waltz by Dmitri Shostakovich; Radetzky-Marsch by Strauss Sir; Pizzicato Polka by Strauss Jr; The Blue Danube by Strauss Jr; and "Pure Imagination" for orchestra, performed by The Pop Orchestral Academy of Los Angeles.
Chapters (12)