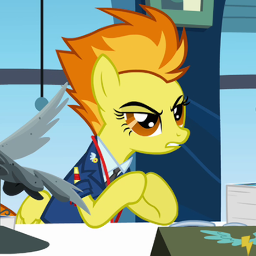 This story is a sequel to Steady as She Flies
---
No power in the 'verse can stop them. They live for flying dangerously, and trolling the ever-loving life out of everypony they meet.
Much to Captain Spitfire's annoyance, Squad 12's antics never cross the line into Violations... The best she can do is simply not feed the Trolls.
That doesn't mean that others aren't going to feed them...
---
This is a collaborative effort between myself, Sylvian, Jim Hoxworth and Zoljen, using our alternate OCs.
Moonbow is mine, Sunshower is Sylvian's, Azure Star is Zoljen's and Bear Claw is Jim Hoxworth's.
---
Advisory: This story will contain massive amounts of crude humor, feigned incest, shamelessness, and unadulterated crack that comes from writing in the wee hours of the morning in the delusional throes of fatigue. This story will NOT contain any significant amount of plot, unless you count these crazies flaunting their rear-ends at ponies.
---
Cover image is a cropped screen capture from MLP:FiM Season 3, Episode 7, Wonderbolt Academy, and rather appropriately captures Spitfire's expression while dealing with Squad 12.
Chapters (10)