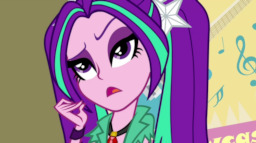 Source
Aria is bothered by many things. But, if there was one thing that got under her skin more than anything else, it was the fact that her sisters, Adagio and Sonata, always got the lion's share of admiring looks, both before and after their reformation. In an effort to help her, Adagio decides it might be best for Aria to get herself a little companionship.
So, with the help of her sisters, Sunset, and a former prodigy of Crystal Prep, Aria tries, to her annoyance, to seek out someone for her.
---
Part of the "Dazzlings/Wondercolts/Shadowbolts" storyline.
Chapters (7)