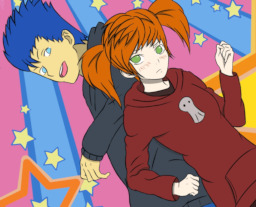 Source
This story is a sequel to "Wub" Me Like You Do
---
Meet Gaige, a geeky, vulgar, and weird introverted girl who would rather have a robot as a companion than having relations with other people. After a freak accident caused by her invention, she transfers to Canterlot High in order to start a fresh new life as a teenager.
But little did she know, her whole life drastically changes when she meets a trouble making boy named Flash Sentry, who immediately takes interest in her after helping him out. Slowly, their friendship begins to progress, and she discovers that she sees Flash as more than just a friend. As two previously unsocial beings, together they explore the true nature of their relationship and emotions towards each other and other people.
---
Cover art done by me
For more info about the PomE Universe, click here!
Chapters (45)