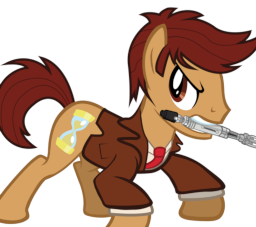 After the events of The End of Time, the Doctor arrives in Equestria, one day before the return of Nightmare Moon. After befriending Princess Celestia, he meets Twilight Sparkle, a unicorn pony that is very smart, but socially awkward, and her assistant, Spike, the dragon.
Both will live great adventures saving Equis, and every once in a while, all of time and space, battling against some of the universe's most fearsome creatures, while uncovering the mysteries of reality. Allons-y!
Story simultaneous to : https://www.fimfiction.net/story/301102/the-rhythm-of-insanity
Note : Cover art found on google.
Chapters (1)