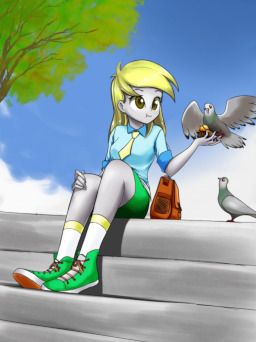 There comes a point in everyone's life when you just can't put up with somethings. For Ditzy Doo that something is the way she is treated by everyone else at Canterlot High that isn't her sister or her only four friends. She's smart, it's just that no one believes that. No one will take her seriously with her wonky eyes and clumsy personality.
However, that all changes when a boy named Shard Storm enters her life. Finding her eyes 'beautiful' and her clumsy nature 'adorable.'
How will things play out for these two? I think we all know the answer by now.
Oh, and there's something about some company trying to get Shard or something.
---
Part of the PoME universe
Any OCs used that are not created by me are owned by there respective owners
Chapters (48)