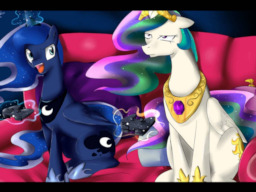 Source
Celestia and Luna need a way to wind down after a hard day. They find it in the form of the latest soccer game.
---
DO YOU NEED TO HAVE PLAYED ANY OF THE FIFA GAMES BEFORE?
Well, whilst having actually played FIFA wouldn't hurt, the answer is no. This fic will make sense to you either way (I hope), so enjoy!
Chapters (1)