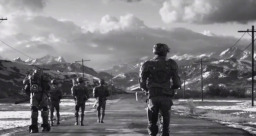 -=-=-=-=-=-=-=-=-=-=-=-=-=-=-=-=-=-=-=-=-=-=-=-
---
---
---
As a part of The Interspecies Friendship Project, Fluttershy has moved from Equestria to the United States in order to show that friendship can be had between two entirely different species. And the Columbian Commonwealth is a strange and wondrous place, with many different things, technology and people.
And she's about to experience it all.
But behind the scenes... darkness awaits, plans are formed, weapons are built and forces are rallied, as war looms on the horizon...
What a Wonderful Life.
---
Fallout and MLPFIM Belong to their respective owners.
I only own my characters, the story and certain elements.
Things may change and some canon may be twisted to fit
Better Cover Art Needed
Chapters (5)