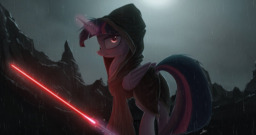 Source
Peace is a lie, there is only passion.
Through passion I gain strength.
Through strength I gain power.
Through power I gain victory.
Through victory, my chains are broken.
The Force shall free me.
~Code of the Sith~
Magic. It is a concept that is taught to great extension in all schools across Equestria. It is the very lifeblood of what Equestria is. Either in a university or at a local school house. Magic is something that is in great abundence.
Twilight knows this to be an absolute truth. She lives by this and has become her whole upbringing into their society. She has a reputation and titles to go with it. Books beyond comprehension. Everything was given to her through this, and her abundant studies of it.
Soon all that she knows will be tested and will she take all of the lessons she has learned into account? Or will she be consumed by the very thing that makes her who she is?
I have a lot of hopes for this, and since that Star Wars the Force Awakens releases in just about a month, I feel now is as good a time as any to do something like this. Star Wars fresh on the brain, and Season 5 at the cusp of finishing, now is a great time.

Just to note, this is a separate universe for both franchises. For this fic, they are being meshed together. I hope you guys really like this. Enjoy!
Coverart belongs to: NCMares
Chapters (25)