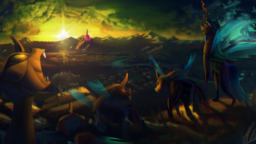 Source
This story is a sequel to The Tempest
---
Upon arriving at the royal wedding in Canterlot, all the foreign delegates have to do is show face on behalf of their nations, wish the happy new couple well, and try not to die.
You wouldn't expect the third of these to be that difficult.
Cover art from the gallery of Alumx. Proofread by themaskedferret, Georg, and Infernus Noctis.
Chapters (7)