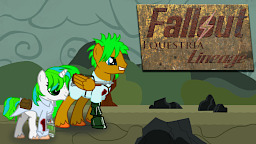 "When all you know is gone, why do you keep on living? Ponies die every day, but it's how you live that matters. So this is me, on the raggedy edge, don't push me."
The tale follows the story of Sunset, an orange Pegasus with a green mane and a setting sun on his flank. Set in the Fallout Equestria Universe created by Kkat this story takes place roughly ten years before the events of the 'Vault Dweller'. Though not branded by the Enclave, that is not from lack of trying on their part, Sunset's luck of always being able to fly away from the terrors of the Wastes has finally run out as what started as a normal caravan guard job takes a turn for the unexpected.
I will do my best to keep this updated on a fairly regular basis, though that all depends on how much of a hash I make of the rough draft. Thanks for reading!
Chapters (6)