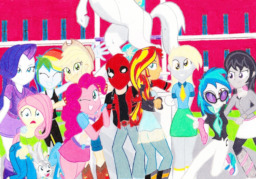 Source
Wade Wilson of Earth 912 here! So after fighting alongside my Earth 616 reality counterpart I decided to go on a trip into the void and check out some alternate realities....and boy did I find some interesting places. But that's not what your here for are you? If you are then sorry but you're out of luck as, after entering the void, I spotted a peculiar reality where it seemed many of my friends from Equestria are humans! Weird right?! So I decided to check it out and boy was that an adventure! So read on and discover the Equestria Girls Adventures of DEADPOOL!
Experience daring action!
Laugh at my witty humor!
Or at all the times we get shot or stabbed!
And watch as I, the writer, go insane trying to keep up with it all
AND NOW FEATURING CORBIN THE EDITOR! Also known as Terabyte West
ALL ON THE EQUESTRIA GIRLS ADVENTURES OF DEADPOOL!
AND HOLY SHIT NOW WE HAVE COVER ART! Thanks to the AMAZING TopWanted for doing this Tears up IT'S SO BEAUTIFUL! PLUS, NOW WE CAN FINALLY GET FEATURED! WOOOOOO!
Chapters (9)