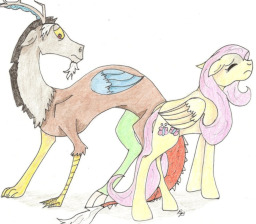 Source
Image drawn by Bluegrass Brooke
"Draconnequi are not beautiful".
A short one shot centered around Discord's thoughts, those vague about himself and how he has changed, and those about Fluttershy. Nothing more, nothing less.
Just something I whipped up on the spot, never published, and then came back to. I was going to add it to a later fan fiction, but I'd rather just do something short.
Chapters (1)