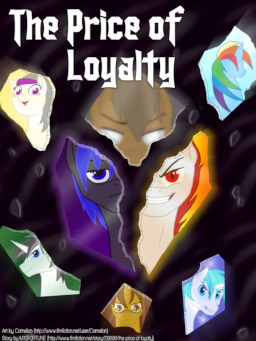 Source
A thousand years ago, Equestria was divided. Princess Luna was banished from her homeland, taking her followers and loyal "nightbreeds" with her to found a new country now known as The Twenty-Six Territories of the Lunar Confederacy. Trapped in an infertile land between Equestria in the East, the icy North, dragon-infested South, and the mountains and sea of the West, the Confederacy has struggled and suffered for their survival despite leaps and bounds in technological advancements.
Born into a dark age of starvation, rebellions, and population restrictions, Lieutenant Ashen of the Nightwing clan of nightbreeds has endured many hardships, and made many sacrifices in his duty to protect and serve Queen and Country. Perhaps too many.
It's then when the Confederacy is suddenly attacked, with Equestria as the prime suspect, that Ashen is sent on a mercy mission to initiate peace talks with their eastern neighbor. As the truth of the attack unravels, so too does the emotionally scarred Lieutenant's sanity and resolve.
The only question left is can the Lieutenant prevent all-out war between his home and the home of a pegasus that will test everything he has come to know about loyalty, or will he lose everything he has left to his duty and regret?
~~~
Cover Art by GenericDrawfag/Carnelian (FIMFiction Profile)
Proofread by Pissfer, Perception Filter, AbsurdistScribbler, and Nonameknight.
Chapters (4)