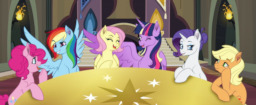 Source
It's been years since Twilight became a Princess, years since Rainbow became a Wonderbolt, and during all these years six best friends slowly drifted away from each other, not being able to meet on daily basis.
But even with all these new responsibilites every once in a while all six of them meet and have fun together, leaving their husbands to do chores and take care of the foals while they too have their "talks".
Cover art by Skjolty, original sketch of the cover art by kilala97
Story set in Kilala97 next gen.
Chapters (1)