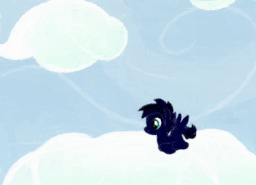 Important: This is one of my earliest stories, when I was very inexperienced as a writer.
A small pegasus colt wakes to find himself in a huge crater with absolutely no memory of how he got there. Or any memory at all.
Well, that's not entirely true. He remembered a single word. Sidereus.
The strange thing was that he didn't remember anything else. Except maybe how to talk. And how to breathe. And that's about it. Well, that's inconvenient.
Things take a nasty turn as he finds his magic is not acting as it should, permanently costing him his sight. He finds a way to cope, but what does it mean for him? How did this happen? Why? And was this a magical accident? Or is there a force more sinister behind it all? Both? No, that's ridiculous.
Sequel: Starry Night
Chapters (14)