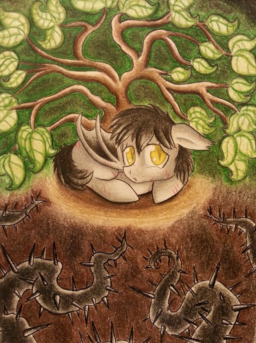 Source
Noctis is a bat pony and the youngest of the Royal Lunar Guard trainees, and tonight is her final test to become a full-fledged guard. She must survive by her wits alone in a place full of dangers, the deadly Everfree Forest. Will she succeed and make her dream of being a royal guard come true, or will she die?
(I eventually plan to expand upon this story and make it part of my AviaVerse Origins series).
This is another AviaVerse story, and it takes place around the time of the Kingdom of Avia chapters "Trouble's Waking " and "Alliances", but this is a standalone story, so no need to read Avia to understand what's going on.
Rated 'teen' and tagged 'dark' for general violence. Also: Discord appears in one chapter- not sure if he has enough effect on things to be tagged though.
AMAZING coverart by Mongoosegoose and used with permission!
The main character in here (Noctis) cameos in Kingdom of Avia, is an important player in The Eighth Sea, and also appears in Dr. Bobtail.
Chapters (5)