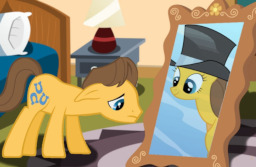 Everyone dreams of a happy life. And in a world of multicoloured ponies, magic, and manufactured rainbows, it seems possible that everyone can have that. But for some, unfortunate circumstances can stop that pursuit dead in it's tracks, no matter how hard they try to push on.
Caramel is a pony who finds himself in that situation, even if he doesn't want to admit it. But when something is standing between you and the life you need, it can't be buried forever. No matter how hard you try. And Celestia does Caramel try.
Note: This story has sad elements and conflicts in it
---
Thanks to Lord-Commander for Editing this story.
Chapters (1)