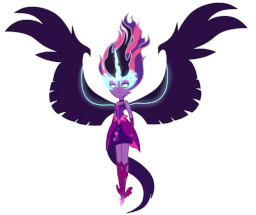 Source
Originally, Principal Cinch managed to cowardly flee when Midnight Sparkle began to tear the world apart and later leave her dignity intact after she was beaten, but what if she didn't?
This is what I think should have happened to Principal Cinch at the end of the movie, after all somone like her shouldn't get off scot free, right?
Edited by Word Worthy.
Cover Art done by MixiePie.
Chapters (1)