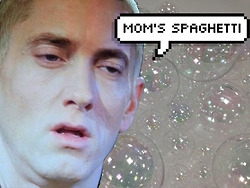 Everypony in Ponyville goes to attend a DJ Pon-3 concert, but instead Not Eminem shows up and begins rapping spaghetti related rhymes causing mass hysteria, ear damage, and casualties. Can the main 6 possible stop this danger? No, probably not...
Are your keens weak and arms heavy? Well don't vomit on your sweater, cause it's mom's spaghetti.
I know this story is terrible, I wrote it in a couple hours after making some 'mom's spaghetti' jokes with my friends. Please don't hate me for completely wasting your time.
Chapters (1)