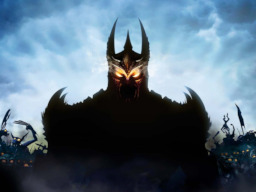 Equestria, a land of peace and prosperity, ruled by the wise Princess Celestia and Luna. Or, that's what it use to be. Now its hardly peaceful, and its hardly prosperous. Well, unless you have a horn or live on the top; or in some cases the clouds.
And as for Celestia and Luna? Well no one knows where they went. They weren't dead, the sun and the moon still rose and set, but they certainly weren't around to lead. So who was in charge? Why Blueblood of course, and his council of friends. So no worries.
And as for peace, well, we won't get into all the politics. Lets just say that, ambitions and insults go a long way towards peace and war. Especially when one doesn't need to worry anymore about keeping the sun and moon on their daily schedule; or the magical cure all known as the Elements of Harmony.
Yes Equestria was in a sorry state, or better off depending on who you asked. It needed a hero, or maybe....
...maybe it needs.....an Overlord.
Chapters (4)