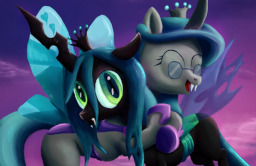 Source
This story is a sequel to Peace at Last Shorts: Taking Time Off
---
It started as a typical day, finishing a scheduled afternoon tea and discussion with Princess Celestia and then exploring the castle.
Chrysalis WASN'T expecting to find a magic mirror. She CERTAINLY didn't expect to repair a broken link connecting her world to another universe. And she DEFINITELY didn't mean to drag her counterpart from said universe into Canterlot and accidentally break the mirror.
Can Duchess Chrysalis fit in and adapt to an Equestria different from her own? Can Queen Chrysalis find a way to fix the mirror and send her back? Can Stag survive an onslaught of cuddling from both versions of his mom?
Who knows, probably, but we'll just need to see.
Chapters (2)