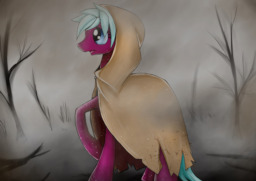 Break Point is a simple earth pony that wants a simple, easy, and safe, not dangerous in anyway whatsoever, life. Unfortunately, this is shattered when she accidentally causes the death of the son of Cosa Nostra, a powerful and dangerous crime lord that rules her town with an iron hoof. Now she must find a way to survive in the Equestrian Wasteland, a place that tears weak ponies like her to shreds. Little did she know that she would become the powerful and feared figure known as the Black Cat.
A crossover between MLP, Fallout Equestria, and Jojo's Bizarre Adventure.
Based on Kkat's Fallout Equestria. This is set 50 years before Littlepip started her adventures.
Wonderful cover art by ShimmerKoi.
Thanks to GreyGuardPony , firehawk732, and Starlight Nova for prereading this.
Editing done by the wonderful Starlight Nova.
Chapters (53)