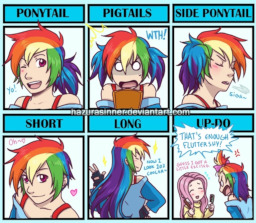 One normal day in Ponyville, and idea hits Rarity and she's eager to do it.
Rarity must style Rainbow Dash's delicate hair.
---
A/N: Look, this was sorta a challenge (Make a story without editing it later) so I honestly give little to no bucks what you think about it. Leave all the constructive criticism and hate you want, because I'm never gonna edit it again.
Chapters (1)