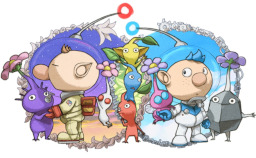 After discovering a island that had strangely appeared in the middle of the ocean, Celestia sends a research team to explore the island. Unfortunately, after a week in the island the research team had suddenly disappeared. Worried for their sudden disappearance, Celestia sends the Mane 6 and a team of her best guards to investigate.
On the same island, two humans cosplaying as two characters from the Pikmin series, find themselves lost in a mysterious island filled with nocturnal predators and a few explorer ponies. Now they must work together if they wish to survive.
---
Warning this is a Pikmin Displaced fic
Co-written with Ditman25
And a special thanks to m2pt5 for editing this!
Chapters (7)