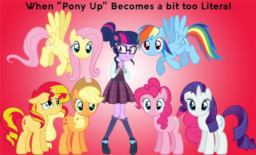 Sunset Shimmer still doesn't fully understand how the magic that transforms her and her friends works. She's close to figuring it out though, or so she thought. When a magical "fluke" occurs during a band practice, will the girls, along with the Twilight of their world, be able to figure out what happened, and will they be able to fix it?
---
Takes place about a week or two after the Friendship Games
---
This is my first story, so it might be good, it might crash and burn. I am ready for criticism, and prepared for the worst. If you see any spelling or grammatical errors please let me know in the comments.
This idea came from reading Oops! I'm Equine Again by MythrilMoth!
Featured on December 22, 2015! Holy smokes!


Featured again on September 24, 2016! All aboard the hype train!
Chapters (4)