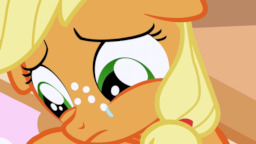 When Applejack kicks a certain tree, she doesn't expect it to complain. Trees aren't supposed to do that. They also don't talk back, shout or go into raging fits. One tree, however, does. By doing so, it changes Applejack's life forever.
NOTE: Events take place immediately prior to Twilight's Kingdom (season 4 finale).
Written for the 'Applejack character' prompt by the Hazardous Writing Materials and Challenges group.
Thanks to Noctus Custodi and InsaneFox for prereading and advice.
Special thanks to PheonixStarr for editing.
Chapters (1)