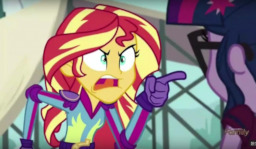 Remember when Sunset yelled at Twilight for putting everyone's "lives in danger?" Well, Rarity does, and she's a bit confused—after all, how could their lives be in danger when it's quite literally impossible for humans to die?
---
"Recommended for terrible people" - Present Perfect
"I don't know whether to laugh or be horrified." - DerpyDerp97
"Don't know why this is getting upvoted. It's not one goddamn bit funny." - MythrilMoth
Now with a reading by Teksune Studios!
Written from 3 AM to 5:30 AM, the morning after Friendship Games premiered.
Preread by Majin Syeekoh, Magello, and M1Garand.
Chapters (1)