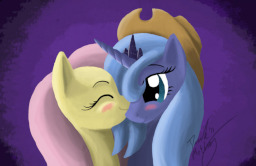 Note From the Future Habanc: This is four years-old garbage. I would take it down in a heartbeat if it was insignificant.
Princess Luna is sent to learn about the changes in her absence. But soon, with the help of another shy pony, she ends up learning more about herself and her emotions, than the land around her.
The Teen rating is here due to some moments of heavier shipping. Nothing explicit, or even close to that, but just a fair warning.
(This is really old stuff, yo. Seriously I would remove it, if it weren't like removing dinosaur bones or something.)
Chapters (9)