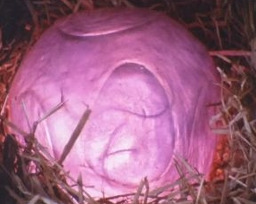 Source
Doctor Whooves 1.1
Something is happening in the skies of Ponyville. Something that has been waiting a long time to return is about to make its move. This time, it's not just world domination it has in mind. There could be a chance of some revenge as well...
The Doctor is old. So old that he's begun to make mistakes, and, being who he is, these mistakes are usually not of the 'oh dear, where did I leave my keys?' sort, but more often of the 'press this button and the Cyberponies' spaceship will be eradicated... oh dear, I've destroyed the planet' sort. This sort of incompetance hasn't gone down very well with the High Council of Time Lords, who have exiled him to his favourite place: Equestria. Unfortunately, they've picked a time a few decades after the one he's used to.
Recovering, in the care of the kindly Fluttershy, from the regeneration through which the Time Lords forced him, the Doctor discovers that an old enemy has come back to haunt him. The Nestene Intelligence has returned to Equestria once more. He is determined, however, to defeat it by enlisting the help of the legendary Bearers of the Elements of Harmony. There are only two small but daunting problems with this proposal:
1. He can't walk in a straight line without falling over;
2. Everypony is convinced he's a lunatic, and is going to take a fair bit of unconvincing.
Meanwhile, Princess Luna, with the help of Professor Crater Mass, her scientific advisor, is making her own enquiries, but what are her true motives? As the death toll mounts, the Doctor begins to realise that he may be out of his depth.
---
Set during the season 5 hiatus, for some reason.
My first story, already a mess of elipses and clichés. For anyone who's interested, the Doctor involved is the 22nd, so your 'headcanon' should already be in tatters. Read this anyway. Read it and like it. You know you ought to. I'll try and make it fit with MLP's canon, anyway. I thought that since the Autons have already been used to introduce two great Doctors, why not make it three?
This is not a 'Doctor travels into the Ponyverse' type crossover, more just a 'The Doctor, who is already there, bumbles into our favourite characters for the first time' sort of thing. It's loosely based on the TV story 'Spearhead from Space', but it's not a retelling. I did say 'loosely'. The title will only seem anything other than ridiculous if you're familiar with the Target novelisations, which I'd imagine roughly none of you are. Ah, well...
Rated teen for violence, but nothing gory. Nothing you wouldn't see in Doctor Who, in fact. If you've read this far, you probably ought to read the story.
For listening, some saint has uploaded a Spearhead from Space suite, which I heartily recommend to any Doc 'True nuts out there: https://www.youtube.com/watch?v=Dx7-oCOOX_I
Chapters (9)