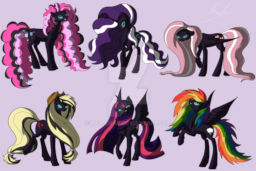 After hearing Nightmare Moon's perspective of what happened 1,000 years ago, the mane six agree to help her, instead of Celestia.
So Nightmare Luna knows this isn't a trick, she puts up six trials for each pony, each with the same theme: Their worst fear.
Rated T for Tia's behavior in the second Prologue. (nothing really bad.

)
Not all chapters are sad, here are the ones to look out for if your feelsy.
Apples to the Corpse
Blind and Homeless
Chapters (24)