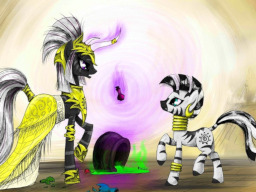 Source
Zecora isn't from Equestria. That should be obvious. She hails from a distant land where everything from skin to speech is vastly different. There, she was a skilled shaman, one of the best in all of the land, and the uttering of her name could open more doors than the Abada himself.
So why, then, is she in Equestria? Why would such a powerful zebra leave her rich and vibrant homeland to live in an untamed forest? Why does she never speak of it to anyone? And why is she constantly speaking in rhyme?
Because of mistakes. Her mistakes, his mistakes, and the mistakes they made together.
Chapters (1)