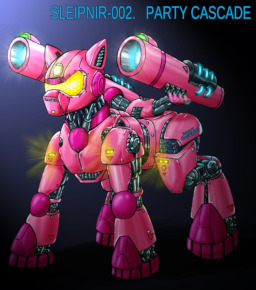 Source
When a mysterious comet changes the already rather abraisive dragons of Equestria into seemingly mindless titanic beasts of destruction, the inhabitants of Equestria are forced to flee for their very lives. Driven to the frozen north the survivors dig in and prepare to make their last stand in the Crystal Empire. Fortunately they have a new weapon that can hopefully match the dragons power. The giant mecha know as Sleipnir.
( now with cover art drawn by myself

)
( Dark tag is for possible character death and ample amounts of gore. If you gonna fight monsters its gonna get messy no?

)
( This story is not exactly a crossover. Its more of an amalgamation of sorts between MLP and ideas inspired by Pacific Rim, with a heavy sprinkle of mecha anime thrown into the mix, because my muse is a mecha junkie. Tags and rating may change depending on future chapters. )
Chapters (4)