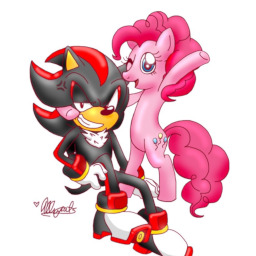 Shadow finds himself with a box left at his doorstep. Who left it there no one knows, but I think we should be more focused on the contents of said box.
Having to deal with amnesia and now a infant Pinkie Pie that has proclaimed him as her father, how is Shadow supposed to cope?
Luckily Rouge and Omega are there to help him...
Or cause more havoc, you never know. But one thing is for sure, silliness ensures.
But there is a mysterious force at work, now Shadow and Pinkie must pick up the slack and save the world. But everyone is asking the same question...
Where in the world is Sonic?
(Inspired by multiple stories by Tatsurou)
Chapters (39)