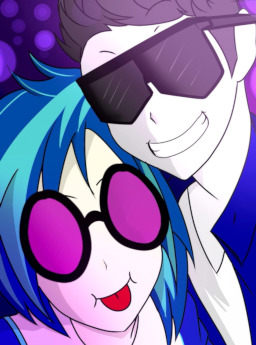 Never underestimate the stupidity of idiots!
---
Having to move to Canterlot because of something his dad committed, Treble Mix has to start over with his highschool life in Canterlot High. With his crazy, obnoxious, deranged and loud mouthed personality, he quickly makes a name in the school as a nuisance.
However, aside from having such a bombastic personality, he begins to have a soft spot for a certain girl: Vinyl Scratch, Canterlot High's resident DJ with a rebellious attitude. With his new found love, Treble tries to get "Vinyl-Senpai" to notice him and share his love with her. The question is, can Vinyl handle his non-stop talking and excessive 4th wall breaking?
---
Cover Art made by Snow_Bullet
Proofread by Xenophilius Kunandra
Inspired by the stories of these guys, who also brought this wonderful shared universe come to life:
BlueSun52, Zeroxdoom, BRyeMC, CogWing, Azure_Shadow, KillerRobotQuote, AC Punk and Fennyo.
Chapters (2)