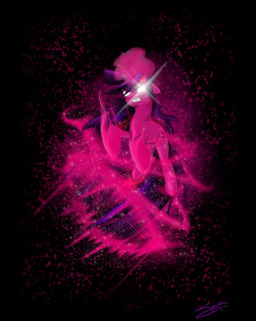 Source
It is three months after the Royal Wedding, and normalcy has returned to Equestria... for the most part. Pinkie is the same old Pinkie, Rainbow Dash is still addicted to the Wonderbolts, Rarity is still trying to learn Prench... but for Twilight, things are not the same. Ever since the Wedding, she's noticed an almost unnoticeable distance from her friends and from Celestia. This alone would be enough to bother her, but to make matters worse, she has been tormented by a dream that she cannot remember and physically cannot rest for fear of.
The tension is building, and something is bound to snap. If you've felt death and loneliness... what would you do to keep your loved ones from suffering the same fate?
---
Hello, this is your author speaking.
I know you're anxious to get to reading the story with the cryptic description would just like to point out a couple things before you get reading.
First of all, this is my first MLP fanfic, and it is set as an AU beginning just after the S2 finale, so I would appreciate constructive criticism. Not flaming or silent downvotes; give me criticism!
Secondly, it is important to understand that the AU tag seen above possesses two meanings. Not only is it an AU in the literal sense as it utilizes my own expansive worldcanon (dubbed Nidus) but in addition to that, it is an AU in that it does not accept the events of season three as canon. This is due to it chronologically beginning only 3 months after season two. The events of season three may appear, but they will likely be warped.
Lastly, I need to point out that I will probably be editing the tags and characters as this story goes. This being my first story, I'll need time to get a handle on the nuances of the submission system.
Thirdly, Please tell me if any of the fonts I use in the story go wrong. There are bound to be a few errors even with my prereading, so if you find them do say something.
Finally, I'd like to thank RoseyTail for her permission to use this marvelous image as my cover.
Thank you, and enjoy the story of Dark Horizons.
Chapters (2)