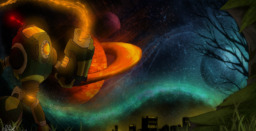 Sealed away until they are once again needed, a group of friends are sent to Equestria as a squad of Galactic Rangers from Ratchet and Clank 3.
One of them knows what the future holds for the ponies and stops the rest of them from interfering with critical events, causing friction between the group.
Nearly a thousand years after Nightmare Moons banishment a young Twilight Sparkle finds them, befriending one of the robots.
Can they mend the bond that was destroyed centuries ago? Will they be able to stop a group of psychopaths from destroying Equestria? Will one of the rangers find the siren he fell in love with before her banishment? Well read and find out.
Chapters (46)