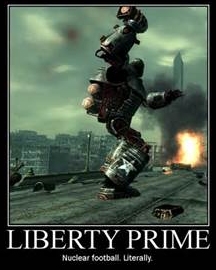 I AM UNIT DESIGNATION LIBERTY PRIME, MADE TO DESTROY ANY COMMUNISTS THAT DARE THREATEN THE THREASHOLD OF THE UNITED STATES OF AMERICA. I SHALL- oh, ok, I can't do this anymore. Its too fun. Ok so, the situation is that one day I woke up as Liberty Prime in a land full of COLORFULLNESS and HAPPINESS! Sorry, I can get eccentric sometimes. Gotta lot of energy here for some reason. Probably 'cause I'm a robot.
Anyways, I'm just exploring this world and seeing what' up. So I hope it'll be fun, and I might just be able to DESTROY COMMUNISTS SCUM while I'm at it.
Hold on, what'd I just say?
Chapters (1)