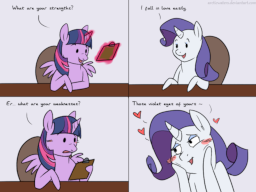 Source
As part of her search for somepony to assist her with legal matters, Twilight spends most of her time interviewing potential candidates. When this results in her neglecting her friends, Rarity decides to take matters into her own hooves.
By which she means getting a job interview with Twilight and acting as unprofessionally as possible.
---
I regret nothing.
Written after my friend The-Chibster asked me to 'RariTwi' this wonderful comic by Accordingtodevin. Cover art was done by my partner in raritwi crime, ArcticWaters.
Chapters (1)