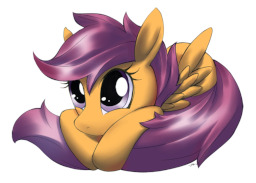 Scootaloo, tough Scootaloo...she's been through more than imaginable, but when a caring mare discovers that she's an orphan, what events could lead to Scootaloo meeting her dreams? How could she go from so little to so much family, housing, talent, and love?
When the filly's life goes through the rollercoaster of romance, the river of remorse, and the clouds of destiny, how will she react? Will she be able to handle it all, or will she give out along the way?
SPOILERS IN THE COMMENTS, READ AT YOUR OWN RISK!
Chapters (19)