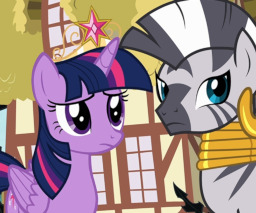 This story is a sequel to Zecora's Big Surprise
---
Written with Pencils Writer's permission
Coverart from here
Twilight thought she had gotten all the surprises she could in life after she had gone from being a unicorn into an Alicorn, then finding out about a world where all those she knew in this world had human doubles.
She was wrong.
Zecora makes a sudden visit late one night after the Plumber Plants have been dealt with. What she has to tell Twilight shocks the Alicorn to the bone. Zecora is pregnant, and Twilight is the father.
However, Twilight isn't the only one of her friends now facing sudden parenthood.
I know i've already written one where Zecora is pregnant with AJ's child, but i couldn't resist this one
Chapters (1)