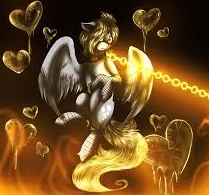 First: This will not conflict with my story Doctor Whooves and Thunderlane
Second: Thunderlane is in the TARDIS when all the sudden he hears Derpy talking to someone in a mirror...He spys on her. (because who wouldn't

) He notices she is talking to Discord! Then she ties Thunderlane up... When she comes back Thunder notices that she has the Doctor kidnapped! Now the foals have to try and save Thunder and he has to gather his old friends from filly school to help him.
Bedeviled Derpy: http://bedeviled-derpy.tumblr.com
Chapters (1)