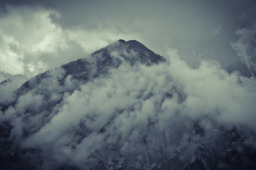 After yet another successful concert, Sweetie Belle, now grown-up to be a nation wide pop sensation, has a chance encounter with her old childhood friends, Scootaloo, Applebloom, Diamond Tiara, and Silver Spoon, and agrees to meet with them and their husbands and boyfriends the next day at a cafe. After her old flame unexpectedly arrives, she invites all of them to a week-long excursion to a cabin on the famous Vanish Mountain, where they can spend time together (as well as win the heart of the one she loves).
Unfortunately, Sweetie Belle had no idea about just what she had signed up for when she purchased that accursed cabin, and now they must struggle to survive against things that seek to prevent them from ever leaving.
No matter how much they struggle, however, the ethereal eyes that watch over the mountain shall never lose sight of its prey...
Co-authored by VunderGuy
Disclaimer: I don't own MLP: FiM.
Chapters (2)