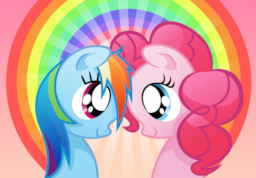 Source
Two MLP fans who live half a world away from each other begin a romance RP.
This is a slightly experimental style of story, following two parallel narratives: a romance between Pinkie Pie and Rainbow Dash in Equestria, and the relationship between two RPers in our world.
Although the rules of fimfiction forbid chat logs being published as stories, I'll note that the chat logs in this story are fictional — they have been entirely crafted by the author, and are not just copied and pasted from a real chat — and only form a small part of the story. I asked a moderator before I even started writing, and he seemed to think it would be okay. While the story is intentionally written as if it could have been an RP, I can assure you I wrote the whole thing myself. I've never even RPed PinkieDash.


This story is a birthday present for one of the most amazing individuals on the planet. Many thanks to Infinity Shade, scootaloo96, and Frowning Sugarcoat for pre-reading this, and offering me their feedback, which I blissfully ignored.

Chapters (1)