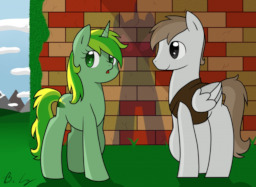 (As of 4/3/2016, this story has been Good HiE List Approved!)
A garage sale mirror was purchased, cleaned and polished, yet some dark shape seemed to block the light. Jess tried to clean it off, only to find her hand going through the mirror itself! This dark form became more solid on the other side, and actively blocked her path home. Now she'll need to figure out more than just how to walk on four legs as a pony, she'll need to learn how to use magic and find out what is preventing her from leaving. What will she do once she finds out why the 'shadow' blocks her path, and what can she do to return home?
(This story takes place in tandem with "Trapped in the Mirror of Worlds" by my good friend, Silver_Wing. Our characters intersect at many points, and you will enjoy the nuances of each character's perspective of events).
Note1: This story has divergence from the partnered story due to differences with the other side, including on direction of certain events. It may have similarities if continued, but is no longer collaborated.
Note2: this story has a sequel the author has moved forward to Soldier and Hope for the forseeable future. Bear in mind this will contain spoilers for this story and potentially for Trapped in MoW if the commonalities remain.
Chapters (14)