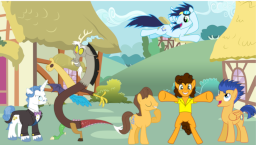 As the mane six are in the Crystal Empire stopping the invading changeling army, their special someponies (and draconequus) are given the responsibility of protecting Ponyville and assuring the citizens that everything will be okay.
It is a responsibility that shouldn't be as difficult as they make it. It doesn't help that the six were never exactly friends to begin with.
Full list of character tags: Fancypants, Soarin, Cheese Sandwich, Flash Sentry, Discord, Caramel, and the Mane Six.
(PLEASE don't down-vote the story just because you don't like the ships I use. Thanks!)
Chapters (4)