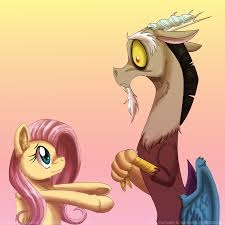 Note: I put the entire story into one chapter so the chapters would not be so short!
I remember how I loved causing chaos as a young draconequus. Chaos is fun, what can I say? I loved
the feeling of being a puppet master, pulling at the strings of other ponies.
One day, while I was up in a tree making it rain chocolate milk on two little fillies, a voice, very delicate
and deep, almost made me jump out of my skin.
"Why are you up here?"
I turned around, startled. There, sitting on the same branch as I, was the most beautiful pony I had
ever seen, with a sleek white coat, bright magenta eyes, and a lovely pink mane.
I didn't want her and I to be on bad terms, so I put my hands behind my back and quickly snapped my
fingers to make my chocolate milk cloud vanish. "N-nothing,' I sputtered, my eyes wide. She looked at me
closely. "You seem lonely. Would you like to play with my sister, Luna, and I?"
"Sure," I said, a little too enthusiastically.
"Wonderful! My name's Celestia."
"I'm Discord."
...End of preview.
Chapters (1)