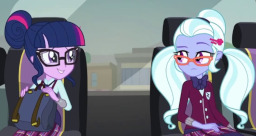 Twilight Sparkle has always been one of the shyest girls in school. Shunned by the popular crowd, she is practically nonexistent.
Sugarcoat is one of the most popular girls in school. She's also incredibly smart and head of the math team.
What will happen when the two end up sitting together on the bus?
A one-shot based on part of the trailer for the new Equestria Girls movie!
Chapters (1)