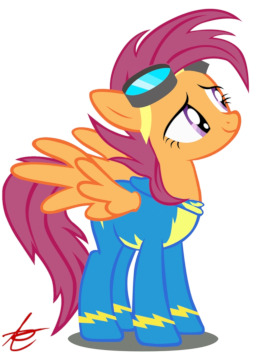 Source
Scootaloo has it all: a job with the Wonderbolts, Rainbow Dash's friendship, her very own fans, and her own Cutie Mark.
But one night she starts having odd dreams that she finds confusing...dreams about her childhood. She doesn't know the meaning of all this...and the two ponies she had supposedly forgotten that have been a large part of her past.
Then she begins to realize the truth: Has she forgotten the two friends that made this all real?
This is my first fan fiction!
Inspired by Veggie55's comic, "Better Days"
http://veggie55.deviantart.com/gallery/33525968?offset=72#/d4czi1s
Chapters (12)